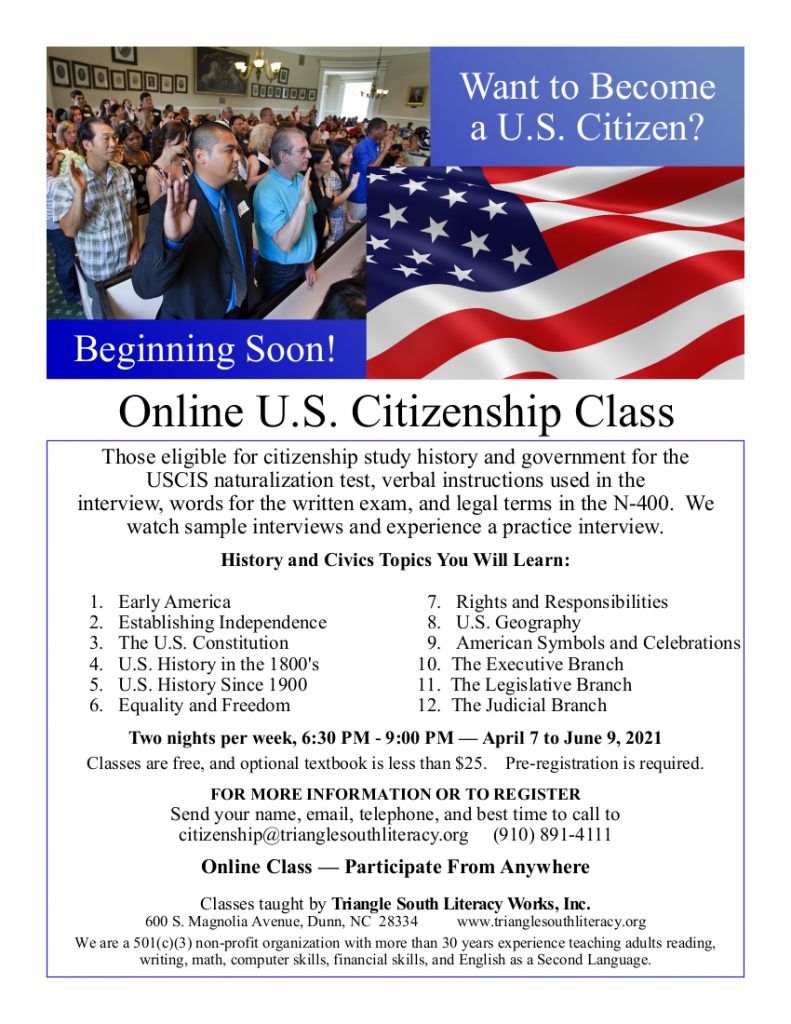 TSLW offers classes that help students who are eligible for citizenship prepare for the interview. Instruction on the history and civics of the United States give a deeper understanding of the answers on the civics test. We also cover the required English communication, reading, and writing skills. A practice interview session is included. The cost of the class is free, but an optional textbook will be $25.00. Our teachers have attended training by USCIS. Our U.S. Department of Justice certified partner organization is available to provide accurate legal advice and assistance in completing the N-400 application at a very low cost. For more information on this class or to register, please email citizenship@trianglesouthliteracy.org with your name, address, phone, email, native language, and the best time for us to phone you. Those without email may text the same information to (919) 244-6457.
We will assign you to a class. Our next class is from April 7 through June 9, 2021. Classes are 6:30 to 9:00 two evenings per week.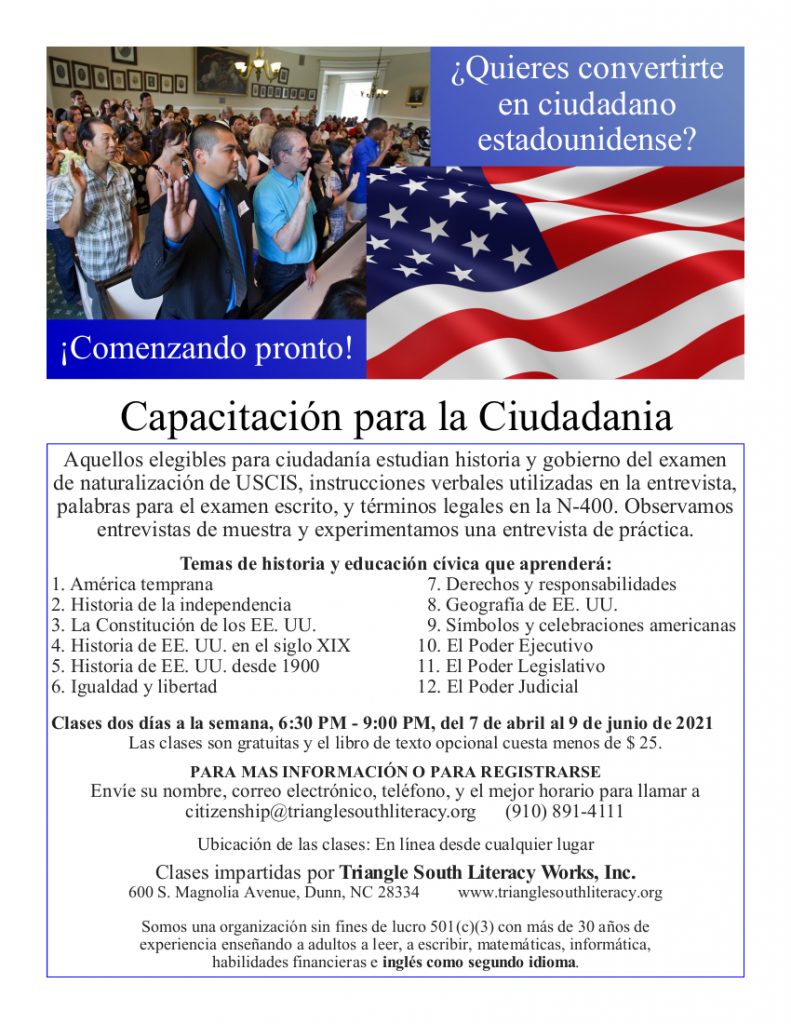 TSLW ofrece clases que ayudan a los estudiantes que son elegibles para la ciudadanía a prepararse para la entrevista. La instrucción sobre la historia y la educación cívica de los Estados Unidos brinda una comprensión más profunda de las respuestas en el examen de educación cívica. También cubrimos las habilidades requeridas de comunicación, lectura y escritura en inglés. Se incluye una sesión de entrevistas de práctica. El costo de la clase es gratis, pero un libro de texto opcional costará $ 25.00. Nuestros maestros han asistido a capacitaciones de USCIS. Nuestra organización asociada certificada por el Departamento de Justicia de los EE. UU. Está disponible para brindar asesoramiento y asistencia legales precisos para completar la solicitud N-400 a un costo muy bajo. Para obtener más información sobre esta clase o para registrarse, envíe un correo electrónico a citizenhip@trianglesouthliteracy.org con su nombre, dirección, teléfono, correo electrónico, idioma nativo y el mejor momento para que lo llamemos. Aquellos sin correo electrónico pueden enviar un mensaje de texto con la misma información al (919) 244-6457.
Te asignaremos una clase. Nuestra próxima clase es del 7 de abril al 9 de junio de 2021. Las clases son de 6:30 a 9:00 dos tardes por semana.