The ESL program is also known as ESOL, meaning English for Speakers of Other Languages. Improve your skills and increase your vocabulary by speaking, listening, reading, and writing English. Our ESL classes help adults find a job, prepare for citizenship, advance professionally, and become more involved in neighborhood and community life. We offer classes for students at beginner, intermediate, and advanced levels. There is currently a multi-level Saturday morning online class available, and night and weekday classes are possible. Most classes are free of charge.
To enroll in an ESL class, please email us at esl@trianglesouthliteracy.org with your name, address, phone, email, native language, and best time for us to phone you. Those without email may text the same information to (919) 244-6457. Let us know whether the mornings, afternoons, or evenings are the best time of day for us to call you. Please allow several days for a return phone call, especially while we are operating under pandemic restrictions for COVID-19.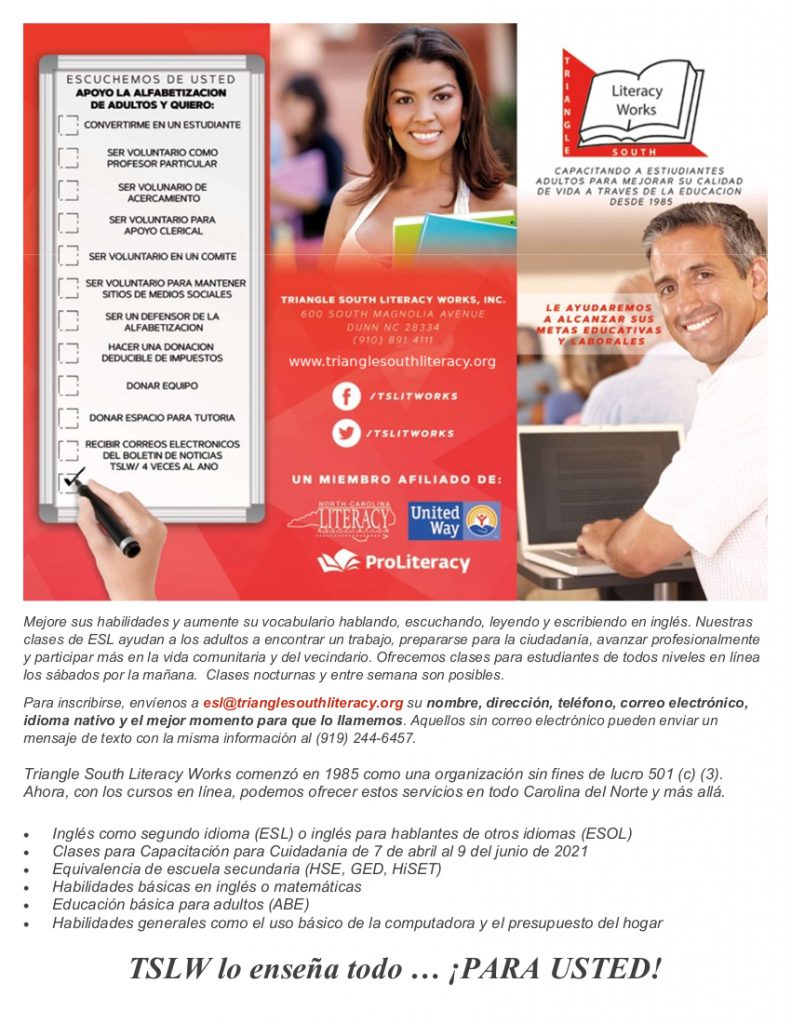 El programa de ESL también se conoce como ESOL, que significa inglés para hablantes de otros idiomas. Mejore sus habilidades y aumente su vocabulario hablando, escuchando, leyendo y escribiendo en inglés. Nuestras clases de ESL ayudan a los adultos a encontrar un trabajo, prepararse para la ciudadanía, avanzar profesionalmente y participar más en la vida comunitaria y del vecindario. Ofrecemos clases para estudiantes de niveles principiante, intermedio y avanzado. Actualmente hay una clase en línea de varios niveles los sábados por la mañana disponible, y las clases nocturnas y entre semana son posibles. La mayoría de las clases son gratuitas.
Para inscribirse en una clase de ESL, envíenos un correo electrónico a esl@trianglesouthliteracy.org con su nombre, dirección, teléfono, correo electrónico, idioma nativo y el mejor momento para que lo llamemos. Aquellos sin correo electrónico pueden enviar un mensaje de texto con la misma información al (919) 244-6457. Háganos saber si las mañanas, tardes o noches son el mejor momento del día para que lo llamemos. Por favor, espere varios días para recibir una llamada telefónica de regreso, especialmente mientras estamos operando bajo restricciones pandémicas para COVID-19.